Panama Leatherback Turtles
Join us for a hands-on trip to Bocas del Toro, a gorgeous corner of northern Caribbean Panama. On this trip, you will work with leatherback turtles and hatchlings with our long-time partner Sea Turtle Conservancy. Spend four nights at the Soropta Research Station, patrolling the beach for leatherbacks at night and fun activities during the day.
Finish the trip by exploring the archipelago's beautiful beaches and coral reefs. In addition to turtles, you'll have chances to observe dolphins, many species of birds, and sloths, learn about the origin of chocolate, and explore the fun town of Bocas del Toro. Profits from this trip will help save 100 hatchlings per participant at this nesting beach.
2023 Dates: June 4 - 11 (trip is full, contact us at right to be added to the wait list)
Price: $1,895 per person.
Includes: In-country ground transportation, meals where noted, lodging, activities, and a donation to local turtle conservation efforts.
Excludes: Airfare to Panama & Bocas del Toro, personal items, and tips for the station staff and activity guides (average is $30 per person).
Notes:
Minimum age is 16 years old, under 18 needs to be accompanied by an adult.

Discounts Available: $40 off for paying by check.

* Please note: We give 100% refunds on any trips that we need to cancel and our cancellation fees (when travelers cancel) can be used on any future trip, no expiration or penalties unless traveler cancels within 60 days of travel. See our full terms and conditions.
Contact us to:
Ask a question

Be added to the wait list
Why Travel With US?
All profits support conservation efforts

Work directly with local researchers

Unique experiences

Personalized service
ITINERARY
JUNE 4th: ARRIVE TO PANAMA CITY Fly into Panama City Tocumen International Airport (PTY) anytime this day and our shuttle will pick you up. Arrive early to visit to the famous Panama Canal or the city's impressive Biomuseo (Biodiversity Museum) (note, this is not included in the tour cost). Overnight: Crowne Plaza Hotel (1 night). Meals: None included today.
JUNE 5th: FLY TO BOCAS DEL TORO & ORIENTATION After breakfast at the hotel, we will transfer to the domestic airport (Albrook) for the short flight to Bocas del Toro. Upon arrival, we will be have lunch in town and then we will be picked up by Sea Turtle Conservancy (STC) staff to transfer by boat to the Soropta field station (about an hour boat ride). After settling into the rooms, we will have lunch and an orientation to the station. Relax this afternoon and join the research staff on the nesting beach to look for hatchlings in the afternoon and turtles in the evening. The training will happen on the beach this evening so there won't be direct hands-on work this night. Meals: B, L, D
JUNE 6th: CANAL TOUR & TURTLE RESEARCH Today, we will take a boat ride to explore the canals around the area to look for wildlife. We'll see many species of birds and possibly other animals like caiman, sloths, monkeys, and more. In the afternoon, we will receive a training and presentation by STC staff so that we can participate in the research this evening. Later in the afternoon, we will visit the rivermouth to look for manatees and sloths and then do nest excavations (where we open old nests to see how many hatchlings hatched). This evening, we will head to the beach to look for turtles and hatchlings and help collect data on what we see. Patrols are 2-4 hours (though we can be flexible with those who need it) each evening. Meals: B, L, D
JUNE 7th: CHOCOLATE TOUR & TURTLE RESEARCH This morning after an early breakfast, we will head by boat and bus (about 1 hour total) to visit the Oreba Cacao Farm to see how chocolate is grown and processed. The farm is run by the Ngobe indigenous community and is completely organic. We will tour the farm to see how cacao is grown, fermented, and dried, sample the chocolate, and have a traditional lunch. We will also have chances to see sloths, poison dart frogs, & more.
In the afternoon, we will have an optional visit the beach to excavate previously hatched nests. We will work with researchers to dig up the nests and count how many eggs hatched and look for straggler hatchlings, which we will release to the ocean. That evening, we head out to the beach for a night of patrols and hands-on data collection. Meals: B, L, D
JUNE 8th: FREE DAY & TURTLE RESEARCH
Today the group will have free time during the day and may organize an activity such as a beach cleanup if needed. In the afternoon, STC staff will give a presentation on sea turtles and their work in this region. This evening will be the final night of beach patrols at Soropta. Meals: B, L, D
JUNE 9th: STARFISH BEACH & BIRD ISLAND Today we will take a short boat ride from Soropta to Playa Estrella (Starfish Beach, 30 minute ride). On the way, we will pass by Isla Pajaro (Bird Island) to look for brown boobies, red-billed tropic birds, and other species of birds that use this island to nest. We'll also look for mating turtles in the water as we pass by. In the afternoon, we will visit the beautiful Playa Estrella to look for starfish and enjoy some time in the water and on the beach. Lunch will be covered and snacks or drinks will be on your own, there are several places to order from on the beach. Dinner will be on your own to choose from many options in Bocas Town. The evening will be free to explore the town and shop for souvenirs. Overnight: Hotel Bocas del Toro or similar. Meals: B, L
JUNE 10th: ZAPATILLA CAYES After breakfast, we will head to the Zapatilla Cayes, two spectacular islands in the Bastimentos Island National Marine Park. On the way, we will pass by Sloth Island, where we can see sloths from the boat, as well as a popular area for dolphins. On the islands, we will visit the STC research stations at these islands and then have time for some excellent snorkeling in the surrounding coral reefs. We will have lunch on the beach and then some beach time before we head back to Bocas town. That evening we will go out on the town, getting drinks by the water and having a final dinner as a group in one of the town's fine restaurants (note: drinks are not included). Overnight: Hotel Bocas del Toro. Meals: B, L, D
JUNE 11th: DEPARTURE Have breakfast at the hotel and then fly out from Bocas del Toro airport in the morning to Panama City for your connecting flight. Or extend your stay and visit other parts of the region. Meals: B
Conservation Impact:
Turtle Conservation: $885 of the trip price

Local Communities: $510 of the trip price

Travel Costs: $500
Testimonial:
Amazing trip, full of many wonders and "thank you God" moments. Unforgettable interactions with the turtles, hatchlings, starfish, and beautiful birds. Very friendly and knowledgeable staff.
-Suzi M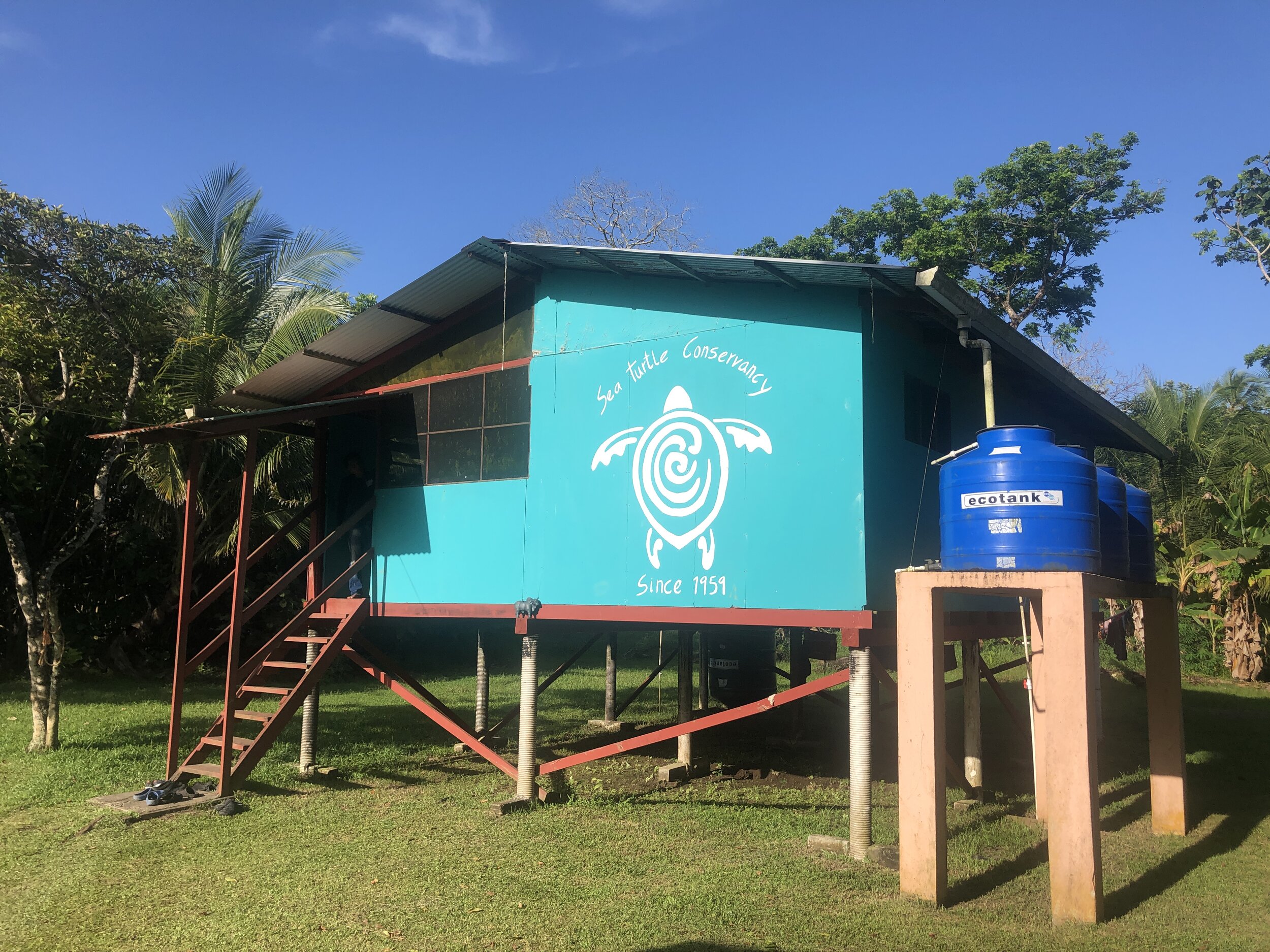 Is This Trip Right For Me?
SEE Turtles offers trips for people with a spirit of adventure. Panama is a safe and beautiful country. This trip goes off the beaten path for 4 nights at the rustic and remote Soropta Research Station (see accommodations slide show above for photos). This is an active trip that requires a level of physical fitness and an ability to manage sometimes challenging conditions including weather and heat, bugs, and a schedule that can affect sleeping patterns. Participants will share rooms of 4 (we can pair friends and family) with external shared bathrooms and showers. The beds are basic mattresses with mosquito nets. There is no hot water, electricity, or internet connection at the station. The hotels in Bocas Town and Panama City have wifi, air conditioning, and hot water.
other Turtle conservation trips
Photo credits: Sam Cooper, Sea Turtle Conservancy, Lulu Muse